Fwd: Tiktok Lights, Descript, Weglot...
Hey,
Searches for "obituary today" have grown 400% in the past five years, but for now, there's just one website that absorbs the vast majority of the public interest.

Legacy.com aggregates death notices from more than 1,500 newspapers and 3,500 funeral homes, and claims to list a full 75% of American deaths. Because of the scale of data these partnerships give the site, it dominates in SEO, ranking higher than funeral homes and local papers in almost every instance.

This translates to staggering traffic: the site attracts more than 40 million unique visitors per month — making it the 162nd most-visited site in the U.S., according to SimilarWeb — and that's growing alongside the population of increasingly connected older Americans. For some, checking the site has replaced the routine of browsing the obituary section of their daily paper.

Given the country's aging population, the $20 billion U.S. death care industry is bound to see growth ramp up in the coming decades. That could benefit Legacy.com — whose revenue has been estimated at between $20 million and $100 million annually — but it could also usher in a new wave of digitally-native competition.

Legacy.com's popularity has made it an advertising powerhouse, and it shares these revenues with its newspaper partners, which pay to repost their listings on the site. It also makes at least as much money on e-commerce sales, as it takes a cut when users send flowers or donate to charity through the site.
EPDF.pub has rapidly ascended Google search results and, after just 6 months, ranks among the top 8,000 most popular websites in the world— even as most visitors may not know it by name.

The site allows users to upload and share e-books and PDFs for free, and 80% of its traffic comes from search. More than 98% of traffic to the site arrives through a highly distributed list of long-tail search terms, which are easier SEO wins because of the relative lack of competition.

Its success on search shows that it is meeting the needs of visitors: As Google has refined its ranking algorithms, it has started to look at the percentage of users who, after searching and clicking over to a given site, don't go back to the search results to look for more, as they've already gotten what they needed. A site that answers users' queries without the user having to look at other sites signals a quality site to Google's ranking algorithm.

Still, EPDF may not be around for long — sites like this regularly pop up and are shut down for copyright issues, leaving room for the next one to come along and rise up the ranks in search on the same kind of low-competition terms.

The company that can ultimately figure out how to align incentives around copyright and free, low-friction distribution stands to win big in the long run.
The smartest online sellers understand that how you describe a product can be just as important to customer acquisition as the product itself.

Searches, sales, and discussion of "TikTok lights" have all surged over the past six months, but the products themselves aren't anything new. The trend is being driven by the growing pool of TikTok users who want better lighting for their selfie-style videos, and online sellers are responding to the new demand.

On Alibaba, many manufacturers have changed the keywords on their existing products to include TikTok-related terms, and on Amazon, searches for the terms now yield hundreds of results.

The trend illustrates how important it is in e-commerce to stay ahead of the new ways that people are using old products. In a previous report, we highlighted a similar phenomenon with the rebranding of mini-fridges to "beauty fridges" in response to a social media-fueled trend.

In another instance, savvy low-carb bread brands added "keto bread" to their listings' keywords right as interest in the diet started taking off. These early entrants benefited from a wave of new customers, and were even able to charge more for their product.
The podcasting boom shows no signs of slowing down, in part because audio content is becoming as easy to record as it is to listen to, opening the door to hundreds of thousands of shows.

Creators all face a common hurdle, though: audio is one of the hardest media to edit. Descript is aiming to change that with new audio editing software that converts audio files into text documents that users can edit like they would a word document. Its tools could help democratize audio in much the same way that inexpensive hi-res cameras and easy-to-use editing software have for video production.

Since April, site traffic has jumped from 86,000 monthly visitors to 260,000 in September.

The product also includes a feature called Overdub, which allows podcasters to fake their own voice in order to dub over mistakes such as mispronounced words. To create their AI voice double, users are prompted to read aloud a series of random sentences. This system is designed to guard against anyone using it to create deepfakes of other people, as users can only record their own voice.

Using Descript's software — which costs between $0 and $15 per month — DIY podcasters can make high-quality content without needing access to an audio engineer.
E-commerce businesses have everything to gain and nothing to lose by translating their sites into different languages — especially as not doing so means missing out on valuable SEO.

While offering multiple languages is obviously essential for international expansion, it's also important for domestic sales in a country like the U.S. With more than 40 million native Spanish speakers, failing to offer that as a language option comes with its own costs: Google's ranking algorithm prioritizes content in the language a device is set to, which for many Americans is Spanish, so English-only sites may be penalized.

Weglot offers website owners the opportunity to translate their site automatically using top machine learning translation services — including DeepL, which we featured in March. (Since then, the startup has doubled in popularity.)

Previously, sellers on platforms like Shopify often had to hire translators through sites like UpWork to expand the language options on their sites, which could come with long wait times and added expenses.
Remove.bg, an online tool that instantly removes the background of any image, has struck a pool of such strongly-pent-up demand that it exploded in popularity with zero paid marketing. The site launched less than a year ago and saw 7 million visitors last month, all organic.

Its instant popularity is in part due to how drastically easier (and cheaper) it is than the traditional approach. Before, the solution was to pay other services with 12- to 24-hour wait times or to use Photoshop, which would require time and skill.

The product's biggest users include photographers, marketers, e-commerce sellers, and car dealerships, the latter of whom use it to clean up images of used cars (new car listings all use the same stock photos provided by their company).

By region, India is Remove.bg's fastest-growing segment. The country accounts for over 12% of visits, which has increased as users leverage the tool to cut down on costs for content production that's been outsourced by creators and merchants abroad.

Originally conceived of as a feature within a larger app, Remove.bg saw such strong demand when it launched that its developers turned it into a standalone product and are now charging for running the process on hi-res images. Today, it's the third most upvoted product ever featured on Product Hunt.

For a list of other tools for which there's strong demand and the current solutions are poor, respond to this email with "list of online tools."
After years of disruption in the razor market, its biggest player, Gillette, is hoping men will pay a premium for a product that brings a barbershop-style shave home.

The company's Heated Razor retails for $200 and incorporates a "warming bar" inspired by the luxury of a hot-towel shave. While Gillette commands about half of the $2.8 billion men's shaving market today, that's a significant slide from the 70% it enjoyed in 2010. Since then, it has lost ground to newer companies like Dollar Shave Club and Harry's, and in 2017, parent company Procter & Gamble slashed prices by an average of 12% to compete with the influx of competition.

With the Heated Razor, Gillette has a different strategy: Once a customer invests in a base unit (or gets one as a gift), they're more likely to feel locked into continuing to buy the matching blade cartridges at $25 for a pack of four. These are the higher-margin products and where most razor companies make the bulk of their profits.
The internet has turned everyone into a content creator, and there's a huge opportunity for tools that make it easy for people to create memes, gifs, and videos. Searches for these tools are the lifeline for companies in this space.

When it comes to SEO, strategic companies sometimes focus on long-tail, low-competition keywords that can be bundled together, rather than individual keywords.

Searches for "meme generator", "meme maker", and "meme template" drive tons of traffic to sites like Kapwing.com (over 2M monthly visits) and to other image tool sites like imgflip.com (7M+ monthly visits) where these searches are the biggest source of traffic.

In fact, Kapwing, which we featured nearly a year ago and has since grown over 10x, was started after the founders noticed the growing wave of searches and discussion of tools to create and edit memes. To learn about other tools for which there's pent-up demand and poor supply, respond to this email with "list of online tools."
While "secondhand" was once a taboo word in fashion, even luxury shoppers are increasingly embracing the resale market thanks to the strategic efforts of companies like Rebag.

With Rebag, sellers can get paid upfront for their used designer handbags — a feature that sets the company apart in a crowded field and helps solve the problem of converting wealthy shoppers who don't necessarily need to sell. While other online-native resale businesses tend to be either consignment-based or peer-to-peer, Rebag buys its inventory outright, which simplifies the process for sellers and helps give shoppers an added layer of assurance about the products' authenticity.

Luxury fashion labels have long been wary of resale channels because of the risks of counterfeits and brand dilution, but, like many advocates for the fast-growing industry, Rebag has argued that they should embrace it. Not only is it seeing the wealthiest shoppers using their payouts to fund their next round of handbag purchases at the beginning of a season, it's seeing first-time buyers cultivate long-term relationships with brands they wouldn't otherwise be able to afford — so that, eventually, many will invest in one of the brand's full-priced style.

One of the key cultural drivers behind the shift towards embracing 'secondhand' is how caring about the environment has become a status symbol among the affluent. Before, secondhand meant cheap; now it may mean a consumer is choosing to make decisions with the environment in mind. We've seen this same pattern within the auto industry. In 2012, many of California's wealthiest zip codes were home to more Prius hybrid models than luxury cars.
The internet is an endless trove of information about diets and nutrition, but with so much (often conflicting) information, consumers are increasingly willing to pay to cut through this noise.

Google has indexed 13.4 million instances of sites saying something is "bad for you" and another 18.3 million instances of sites saying something "is not good for you." All this noise can make it harder, rather than easier, for people seeking to understand what foods are best for them to eat — a group that's growing alongside broader healthy-living trends.

While the science behind food sensitivity tests is dubious, and some doctors warn that they may be harmful if they cause people to eliminate foods unnecessarily, there are several companies competing in the space, including EverlyWell, which sends customers a kit to draw a fingerprick's worth of blood that it then tests in a lab for immune responses to common foods.

As the internet continues to be increasingly overwhelmed with noise, we can expect more paid solutions to emerge to give consumers a way to cut through it all, particularly in noisy areas like diets, health and wellness, and education.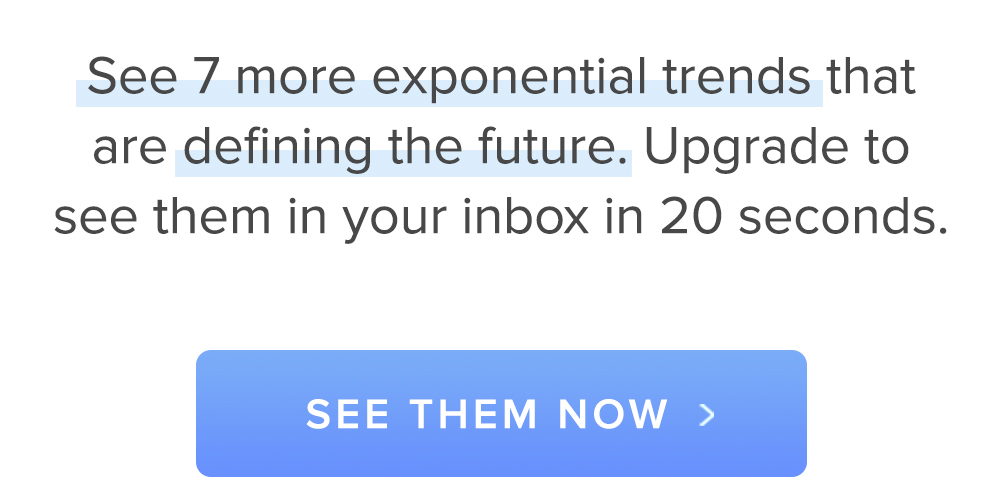 Post by: Glimpse